Best PlayStation 5 Xbox Style Controller To Buy In 2023
The PlayStation 5's new DualSense controller has been a hit with gamers for its innovative features and enhanced haptic feedback. However, some gamers may prefer a more traditional controller design. That's where the PlayStation 5 Xbox style controller comes in.
PS5 DualSense Controller
The PS5 DualSense controller is one of the most advanced controllers available on the market today, offering a range of features that enhance the gaming experience. Here are some of the key features of the DualSense controller:
Haptic feedback: The controller features advanced haptic feedback technology that provides realistic vibrations and sensations in response to in-game actions.
Adaptive triggers: The adaptive triggers can change their resistance depending on the game, offering greater control and immersion for players.
Motion controls: It features built-in motion controls, allowing for intuitive and natural movements in compatible games.
Built-in microphone: It includes a built-in microphone allowing accessible voice communication with other players.
Create button: The create button allows for easy sharing of game content, such as screenshots and video clips.
Touchpad: The touchpad provides an additional input option for games and can be used for various functions.
Built-in rechargeable battery: The DualSense controller includes a built-in rechargeable battery that offers up to 10 hours of playtime on a single charge.
Ergonomic design: The controller features a comfortable, ergonomic design that is optimized for long gaming sessions.
Despite the exceptional features of the PS5's DualSense controller, it has been the sole option for playing PlayStation 5 games over the last year. However, the situation has now changed as several competitive-focused controllers are available for purchase online.
1. Design and Features
The PlayStation 5 Xbox style controller is a third-party controller designed to look and feel like the Xbox controller. It features a similar button layout and a familiar, ergonomic design that many gamers prefer. The controller is wireless and connects to the PS5 via Bluetooth.
In terms of features, these controllers offer a range of customization options. It may have programmable buttons on the back of the controller and the ability to adjust the sensitivity of the thumbsticks and triggers. Some controllers also have a built-in rechargeable battery, so you don't have to worry about replacing batteries.
2. Compatibility
The PS5 Xbox style controllers are compatible with the PS5 and the PS4. They can be used to play games on both consoles, but some games may not support all of the controller's features. It's important to note that Sony does not officially license the controller so certain games may have compatibility issues.
Pros and Cons
Pros:
Familiar, ergonomic design for those who prefer the Xbox controller
Customizable buttons and sensitivity settings
Built-in rechargeable battery
Cons:
Not officially licensed by Sony so compatibility issues may arise
Some games may not support all of the controller's features
It may not offer the same level of innovation as the DualSense controller
What Are Your Options?
If the DualSense controller isn't quite what you're looking for, other third-party controllers are available for the PS5. Let's take a look at a couple:
1. NACON Controller Esports Revolution
Revolution Unlimited Pro controller features customizable buttons and profiles and a wired or wireless connection option.
It can be connected wirelessly or via a wire, offering flexibility to players.
It also supports audio and chat in both wireless and wired modes.
The controller features dual customizable sticks with 30/38/46 amplitude and interchangeable stick heads, providing greater control and customization for players.
Smart LED indicators allow players to quickly and easily identify players and other important information.
An excellent choice for gamers who want a high-quality, customizable controller with advanced features to enhance their gaming experience.
Price – $107
2. Razer Raiju Razer RZ06-02610100-R3G1
Another option is the Razer Raiju Ultimate controller, which also offers customizable buttons and profiles and a mobile app for further customization options. It also features a built-in control panel and a hair-trigger mode for faster response times.
It comes equipped with Razer Mecha-Tactile Action Buttons that combine a soft, cushioned touch with crisp tactile feedback.
Four remappable multi-function buttons give gamers greater control, enabling them to master advanced gaming techniques.
When hair trigger mode is activated, mechanical stop-switches reduce travel distance to the triggers, enabling quick-firing action.
The controller also features three connectivity modes, allowing easy switching between PS4, USB, and PC.
Lastly, gamers can remap multi-function buttons and triggers, adjust sensitivity clutch options, or fine-tune the intensity of rumble motors with the help of a mobile app.
Price – $397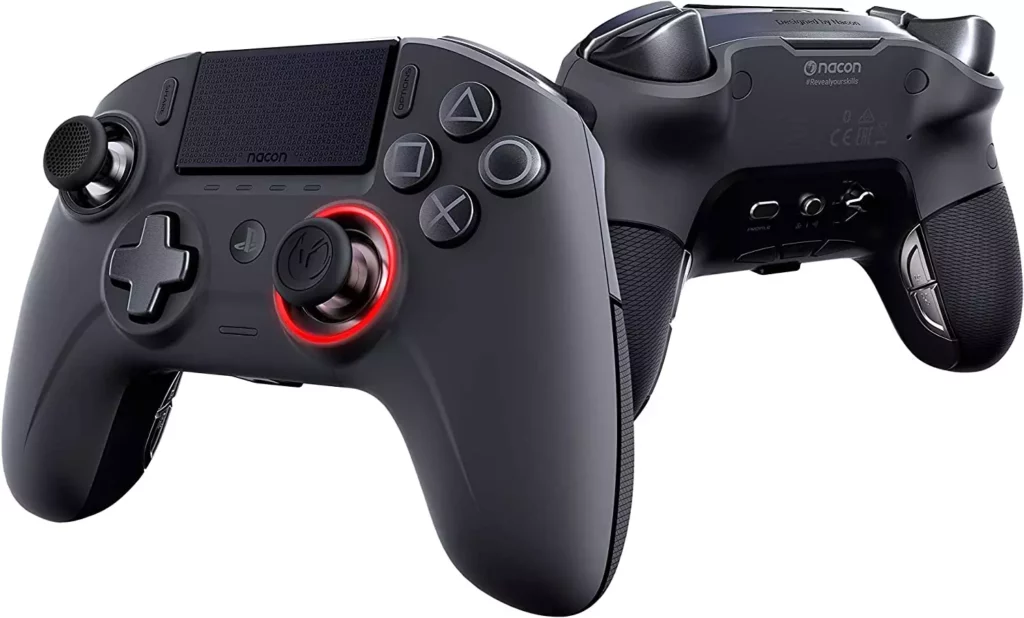 Conclusion
The PlayStation 5 DualSense controller is a great option for gamers who prefer a more traditional controller design. It offers a range of customization options and is compatible with the PS5 and the PS4. However, it's important to an excellent note that as Sony does not officially license it, there may be some compatibility issues with certain games.